In 2012 Krystian Pilarczyk has donated his technical archive to the department of Hydraulic Engineering of TU Delft. The archive has been processed and cleaned up. Books from the collection have been placed in the books collection of the University (accessible via https://tudelft.on.worldcat.org), duplicates have been recycled and given to PhD students (mainly from developing countries). The collection also contained many Delft Hydraulic Reports. These reports have been added to the paper collection of Delft Hydraulic Reports of the department. It is the intention to add these reports in the near future also to the digital collection.
The collection also contains some 2000 rather unique reports on hydraulics, geotextiles and related subjects. These reports have been digitised and added to the Delft Hydro repository. An full list can be obtained from the repository.
---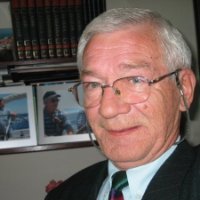 Krystian W. Pilarczyk, M.Sc., born February 14, 1941 in Poland, was graduated in 1964 at the Gdansk Technical University, Faculty of Hydraulic Engineering. After the first six years of research activities at the Institute of Hydroengineering in Gdansk and Delft Hydraulics in Delft, he joined in 1971 the Rijkswaterstaat. In the period 1971 to 1986 he was involved in the Delta Project (closure of the tidal estuaries) as a coordinator of the applied research and the designer. In that time he initiated a number of systematic research programís, among others, on static and dynamic stability of rock, closure techniques by means of rock and sand, scour prediction and scour protection, runup and overtopping, bank protections, design of dikes and various kinds of revetments, and design with geosystems. All these programmas have resulted in a number of design manuals, which were realized under his supervision in the period 1986 to 2002, in the scope of his R&D activities at the Road and Hydraulic Institute (Dienst Weg- en Waterbouwkunde) of the Rijkswaterstaat in Delft. He retired from Rijkswaterstaat per 1 december 2004.
He has been teaching at Unesco-IHE in Delft and the Nanjing Hydraulic Institute. After his retirement he acts as an independent consultant.
Pilarczyk is author of many books and reports. An overview of his books is available in Worldcat. An overview of reports can be found in the Delft Hydro Repository. More than 700 references to papers and books by Pilarczyk can be found in Google Scholar.

Note that all information is presented without any endorsement of TU Delft. The information above is not intended as design guidance, but only as additional information for students, scientists and designers. This page is maintained by the Section Coastal Engineering of Delft University of Technology. For information: mail@dicea.nl